COVER OF THE WEEK: Niko Schwind – Perfect Fit
-English version below-
Ha incontrato per la prima volta Oliver Koletzki in Panorama Bar. Un artista che ama viaggiare e che paragona la vita di un DJ oggi a quella del Piccolo Principe.
Abbiamo scelto la copertina del suo ultimo EP "Perfect Fit" su Stil Vor Talent come Cover della settimana su Musicbaum. Niko Schwind ha risposto ad alcune domande che gli abbiamo fatto riguardo la copertina del suo EP. Buona lettura!
Cosa possiamo vedere nella cover art? Chi è il designer? A vedere la copertina, sembra tanto il mondo del Piccolo Principe, è così?
Esatto, la copertina si ispira infatti al Piccolo Principe. E' un disegno eseguito da Slapeter, artista che ha lavorato a tante copertine per l'etichetta Stil vor Talent. Lo adoro!
Perché hai scelto questa immagine come copertina per il tuo EP?
L'idea dell'artwork mi è venuta in mente per caso mentre ero nella mia cucina. Penso che la vita di un DJ possa essere tranquillamente comparata a quella del Piccolo Principe: come lui è in costante movimento, incontra nuove persone e fa amicizie per il mondo.
Puoi descriverci la musica del tuo EP in poche parole?
"Perfect Fit'" si abbina perfettamente con la calda voce di Heartbeat attraverso l'effetto loop con la chitarra e uno scricchiolante synth bass-line. E' una traccia molto minimalista ma sicuramente ricca di emozioni. Come il primo singolo, riflette in generale il modo del mio nuovo album 'Grippin World', che è piuttosto versatile, nel quale ci sono ritmi crescenti, suoni più duri, cenni di R'n'B e hip-hop. In sostanza, è un EP molto compatto e caldo.
Ci racconti la tua prima volta al quartier generale di Stil vor Talent?
Se ricordo bene, ho incontrato prima Oliver Koletzki in PanoramaBar qui a Berlino: non male come primo appuntamento. Poi ho conosciuto i ragazzi di Channel X che ho incontrato appena dopo che mi sono trasferito dalla mia città natale Trier per Berlino.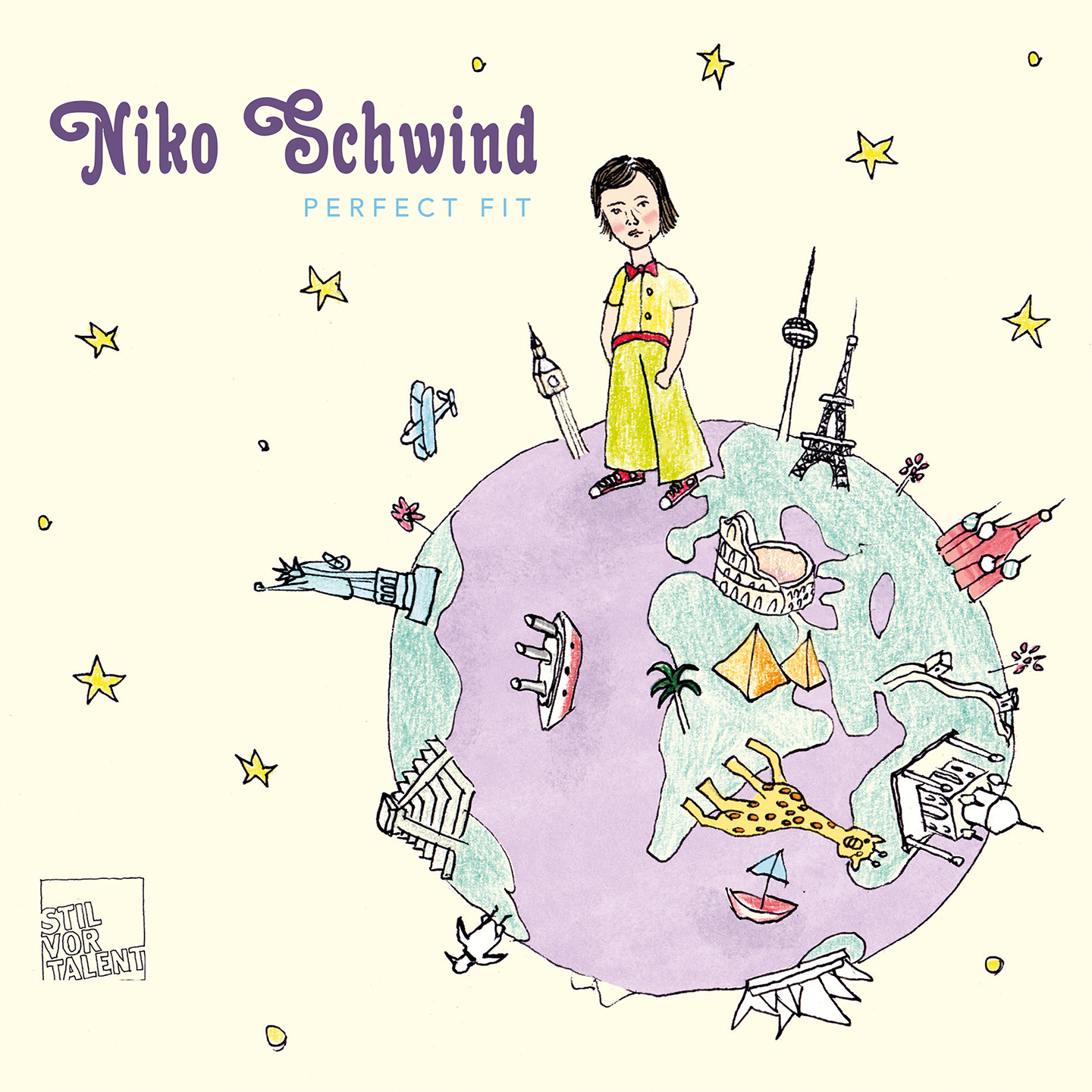 English version
His first meet with Oliver Koletzki in Panorama Bar. An artist who loves travelling comparing the DJ life today to that of the Little Prince.
We choose the cover of Niko Schwind's last EP "Perfect Fit" on Stil Vor Talent as Cover of the Week. Niko Schwind has replied to some questions about his cover. Enjoy!
What can we see on your cover art? Who is the designer? It seems the "Little Prince" location, isn't it?
Yeah, the cover art is indeed a reference to 'The Little Prince'. It's hand-drawn by Slapeter, an artist who has designed a number of covers of Stil vor Talent records. I absolutely love it!
Why did you choose it as Cover for your EP? 
The idea for the artwork was born spontaneously in my kitchen. I think the life of a DJ is definitely comparable to that of the Little Prince, as a DJ is constantly on the move, meets new people, and forms friendships across the globe.
Can you describe the music of your EP in few words?
'Perfect Fit' marries Heartbeat's warm voice with guitar-loop and a synthetically creaking bass-line. It's quite minimalistic but definitely emotional. As the first single, it generally reflects the the mood of my new album 'Grippin World', which is pretty versatile, on which one finds grooving rhythms, harder sounds, poppy arrangements, nods to r'n'b and hip-hop. Essentially, it's very organic and warm.
Can you tell us the first time with the people of Stil vor Talent?
If I remember correctly, I first met Oliver Koletzki in PanoramaBar here in Berlin – not a bad place for a first meeting.  The Channel X guys were the first people of the Stil vor Talent family who I met just after moving from my hometown Trier to Berlin.